About Roof Maxx of Anchorage, AK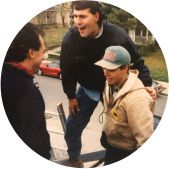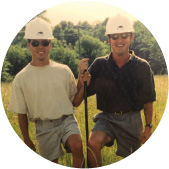 How Roof Maxx brought affordable roofing to Anchorage, AK.
We saw how roofing was getting more expensive.
Brothers Mike and Todd Feazel launched their first roofing company back in 1988. Over the next few decades, they became leaders in the industry. They also saw how roofing was changing, and in some cases, not for the better. Asphalt roofs had started to break down faster than before, which meant people had to pay for expensive roof replacements more frequently.
The shorter lifespan for asphalt roofs has to do with how shingles are made. Asphalt contains oil, which allows the shingles to expand and contract with changes in the weather. In our neck of the woods, where we get far more snow and colder temperatures than most of the US, a compromised roof is a big deal. But shingles are now made with less asphalt. Having to replace your roof more often has made affordable roofing in Anchorage, AK, harder to get.
My brother and I could see the staggering number of roofs at risk across the country and wanted to do something about it. Now, through Roof Maxx, we're looking out for asphalt roofs, the people under them, their hard-earned money and the planet.

Mike Feazel
CEO, Roof Maxx
Roof Maxx is here.
Mike and Todd decided to do something about the rising costs and shrinking lifespans of asphalt roofing. They sold their roofing business in 2013 to work on the challenge full time. Their work included research in the country's biggest lab so they could test and refine their solution. After years of hard work, they developed roof rejuvenation from Roof Maxx.
Now you can get affordable roofing in Anchorage, AK, by contacting local Roof Maxx owner Blaize James. Roof Maxx is an all-natural bio-oil that makes the shingles on your asphalt roof work like new. One application of Roof Maxx immediately adds five years of durability to your roof, and it costs just 15-20% of what replacing it would cost. You keep your roof and save thousands.
Talk with your local Roof Maxx of Anchorage, AK.
Roof Maxx brings affordable roofing to Anchorage, AK, homes and businesses.