About Roof Maxx of Mooresville, NC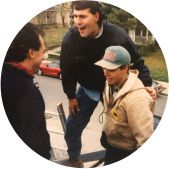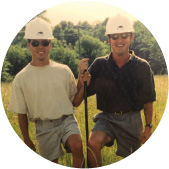 Affordable roofing in Mooresville, NC is possible thanks to Roof Maxx. 
We've walked the walk as roofers.
Before they created Roof Maxx, brothers Mike and Todd Feazel spent their time operating the roofing company they started back in 1988. For over 25 years, they were focused on growing their company and adapting to the continuous changes in the industry. However, one major change shifted their focus to sustainable roofing.
The way asphalt shingles are made has changed in recent years. Because the cost of asphalt has become more expensive, less of it is included during shingle production. With less asphalt, shingles don't have as much of the oil needed to expand and contract. Plus, their lifespan has been significantly shortened; they are often rendered completely ineffective before they reach ten years old. The heavy rains, humidity, and higher amount of UV radiation experienced in Huntersville further weaken shingles. To avoid extensive property damage, most home and business owners spend thousands of dollars replacing roofs. Options for affordable roofing in Huntersville, NC, were slim, which is when our founders sold their company and focused on sustainable, affordable roofing.
My brother and I could see the staggering number of roofs at risk across the country and wanted to do something about it. Now, through Roof Maxx, we're looking out for asphalt roofs, the people under them, their hard-earned money and the planet.

Mike Feazel
CEO, Roof Maxx
Today, we're helping property owners save thousands on roof replacement.
We partnered with Battelle Laboratories to find a way to restore shingles without replacing them. The Feazel brothers created Roof Maxx, a roof rejuvenation formula. We found that by replenishing the evaporated oil with natural plant-based oils found in Roof Maxx, shingles were made like-new again and their flexibility was restored. Plus, shingles' lifespans were extended by five years with one treatment and up to fifteen with regular application.
Today, we've offered thousands of home and business owners an economic and environmentally-friendly alternative to roof replacement. Roof Maxx is just 20% of the cost of roof replacement, helping you to save thousands of dollars. We also offer a transferable warranty should you end up moving during that time. Our roof rejuvenation formula is the new alternative to buying a new roof. Contact local Roof Maxx dealer Mike Esposito today for a free quote.
Connect with our roofing company in Mooresville, NC.
Roof Maxx is proud to provide affordable roofing to Mooresville, NC.
Five Year Transferable Warranty
With our five-year, transferable warranty, you'll enjoy the peace of mind that your roof and entire home are protected.