ROOF MAXX OF
Battle Creek, MI
Roof Maxx a safe, easy, proven and affordable alternative to a complicated, expensive and life-disrupting asphalt roof replacement.
AS SEEN ON: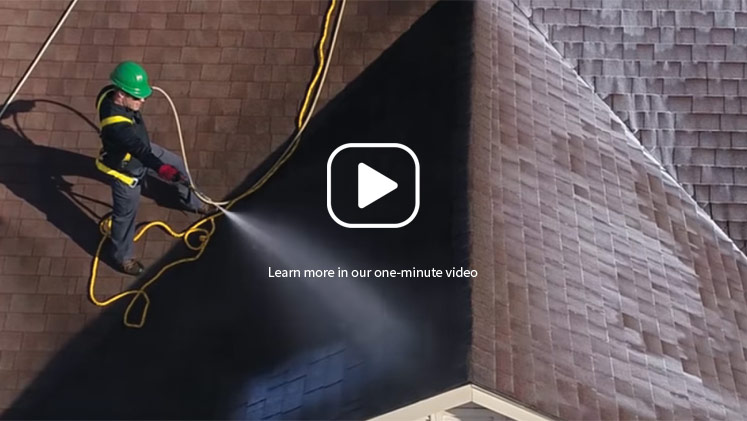 The roofing company in Battle Creek, MI, that can save you thousands with roof rejuvenation.
If you've noticed signs of aging in your asphalt shingles, like missing granules or loose, broken, or uplifted shingles, you may think it's time to replace your roof. Before you start tearing off shingles, contact Roof Maxx. As the premier roofing company in Battle Creek, MI, we can help you save thousands on roof replacement with our revolutionary formula.
Get more from your asphalt shingles.
A change in the way asphalt shingles are made has significantly reduced their lifespan. Today's shingles are drying out and failing after just ten years or so, leaving your roof vulnerable to costly damages. These weakened shingles can't withstand hail, heavy rain, strong winds, freezing temperatures, or humidity—all of which are common weather conditions in Battle Creek. That's where Roof Maxx can help. By applying our affordable, natural, plant-based formula to your shingles, they regain their original effectiveness and strength. A single application of our roof rejuvenation formula adds five years of life to your roofing system and up to 15 with regular treatments.
Doing our part to protect the environment.
Our roofing company in Battle Creek, MI, is committed to doing our part to help the environment. Roof Maxx is made entirely from natural materials that are completely safe for people, animals, and the environment. Plus, every roof treated with Roof Maxx is helping to reduce the amount of construction waste found in landfills. When you choose Roof Maxx, you're doing your part to create a greener future for all—not to mention saving yourself quite a bit of green in the process.
It All Adds Up
Roofingmakes up 10% of construction waste in landfills
And creates 13.5 million tons of waste annually
Good thingRoof Maxx will save you up to 80% over a roof replacement
And can extenda roof's life by 5 years with one application
Make that 15 years with applications every five years
Contact our roofing company in Battle Creek, MI
The Roof Maxx process:

We'll Assess Your Roof.
To ensure your roof is a good candidate for our roof rejuvenation formula, one of our local dealers will carefully inspect your roof. If everything looks good, we'll schedule an appointment for application.

We'll Apply Roof Maxx.
On the day of your appointment, we'll perform a quick roof tune-up and then apply Roof Maxx. Most projects take a few hours to complete at most.

Five Years. Guaranteed.
Roof Maxx automatically adds an extra five years of life to shingles the moment it's applied. If you end up moving during those five years, the new owner can take advantage of our transferable warranty.
Roof Maxx is the most affordable roofing company in Battle Creek, MI.
How do I know if my roof is ready for Roof Maxx?
Asphalt shingles contain small, sand-like pebbles that stick together when shingles natural oils are intact. Once those oils start to dry out with age, you may see the granules flaking off in your gutters or downspouts. You might also notice black stains and streaks or shingles cracking, breaking, and curling. Since each roof is different, your local dealer will perform a free inspection to tell if Roof Maxx can help you.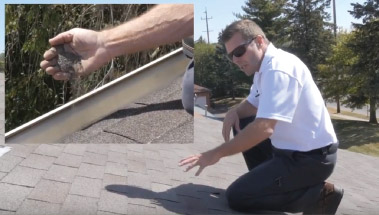 Your trusted roofing company in Battle Creek, MI.
Five Year Transferable Warranty
With our five-year, transferable warranty, you'll enjoy the peace of mind that your roof and entire home are protected.