ROOF MAXX OF
Topeka, KS
Roof Maxx a safe, easy, proven and affordable alternative to a complicated, expensive and life-disrupting asphalt roof replacement.
AS SEEN ON: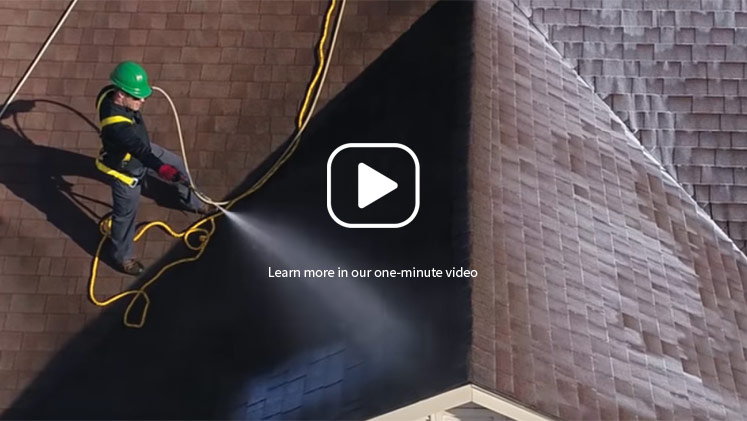 Roof Maxx roofing company in Topeka, KS, can save you thousands.
If you're a home or business owner in Topeka, KS, your asphalt shingles are being exposed to muggy, hot, and wet summers, and cold, windy, and dry winters. And asphalt shingles don't contain as much natural oil as they used to. These two facts combined lead many to pay potentially tens of thousands on a new roof when shingles prematurely dry out. Roof Maxx can fix that.
Add 15 years of life to your roof with Roof Maxx.
Roof Maxx roofing company in Topeka, KS, offers a revolutionary roof rejuvenation treatment that restores old, brittle shingles to like-new condition. One treatment of Roof Maxx will add five years of life to an asphalt roof with just one treatment. We can effectively treat roofs as young as 6-8 years old and as old as 15-20+—adding new life at a fraction of the cost of a roof replacement.
What signs indicate my roof needs Roof Maxx?
Our roofing company in Topeka, KS, can help you figure out if Roof Maxx is the right option for your roof, but there are some signs you can watch out for. When the natural oil in shingles begins to dry out, you'll notice their small granules flaking off. Topeka's high humidity levels can also lead to molding. Other signs to keep an eye out for include: dark streaks or stains, as well as cracking, curling, and breaking. These could be indicators that it's time to consider Roof Maxx and our money-saving roof rejuvenation treatment. Don't wait to set up a free estimate with us today.
It All Adds Up
Roofingmakes up 10% of construction waste in landfills
And creates 13.5 million tons of waste annually
Good thingRoof Maxxcosts just 20% of a roof replacement
And can extenda roof's life by 5 years with one application
Make that 15 years with applications every five years
Contact our roofing company in Topeka, KS
Take a look at the whole process:

We'll Assess Your Roof.
After determining that Roof Maxx is right for your roof, we'll schedule an appointment to apply our treatment.

We'll Apply Roof Maxx.
We'll make sure everything is ready to go before applying Roof Maxx. The entire application process—from start to finish—takes one to two hours max.

Five Years. Guaranteed.
Enjoy five years of life from your newly restored shingles. We also have a transferable warranty should you move within that time.
Roof Maxx is your trusted roof rejuvenation company in Topeka, KS.
How do I know if my roof is ready for Roof Maxx?
Asphalt shingles contain small, sand-like pebbles that stick together when shingles natural oils are intact. Once those oils start to dry out with age, you may see the granules flaking off in your gutters or downspouts. You might also notice black stains and streaks or shingles cracking, breaking, and curling. Since each roof is different, your local dealer will perform a free inspection to tell if Roof Maxx can help you.
Contact our roofing company in Topeka, KS
Five Year Transferable Warranty
With our five-year, transferable warranty, you'll enjoy the peace of mind that your roof and entire home are protected.