About Roof Maxx of Williamsburg, VA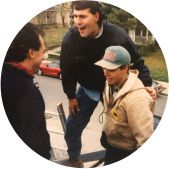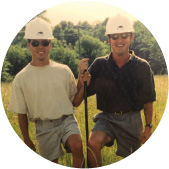 Roof Maxx is the most trusted source for affordable roofing in Williamsburg, VA
We know roofing, and we're changing the industry.
Founders Mike and Todd Feazel started their roofing business in 1988 and built their brand into one of the most successful roofing companies in the country. Over the years they saw how the manufacturing of asphalt shingles changed to make them less flexible and durable, causing roofs everywhere to last significantly less time than they used to. This led Mike and Todd to focus on creating the sustainable, innovative roof rejuvenation company that Roof Maxx is today.
Named as one of the 10 most inspiring Bio-All Star companies globally, in 2019, Roof Maxx's formula penetrates deep into dry roof shingles within 30 minutes, and fully restores flexibility within 72 hours. After treatment, this protective top coating waterproofs the asphalt, improving adhesion and resistance to hail impact. We offer a 100% satisfaction guarantee and a 5-year transferable warranty. By repeating treatments every five years, we can extend the life of your roof by up to 15 years at just 15-20% the cost of roof replacement. This is what makes us the trusted source for affordable roofing in Williamsburg, VA.
My brother and I could see the staggering number of roofs at risk across the country and wanted to do something about it. Now, through Roof Maxx, we're looking out for asphalt roofs, the people under them, their hard-earned money and the planet.

Mike Feazel
CEO, Roof Maxx
We're a new breed of sustainable and affordable roofers.
Did you know that 11 million tons of waste is dumped into landfills every year, just from roofing materials? For this reason, Roof Maxx is proud to be a new breed of sustainable roofers, lengthening the life of your roof, significantly reducing landfill waste, and minimizing your environmental footprint. Roof rejuvenation costs an average of 80-85% less than that of replacing your roof, making Roof Maxx an incredibly affordable, green solution that protects your home and family.
Led by Steven Carpenter, we are a locally owned, certified Roof Maxx dealer providing affordable roofing in Williamsburg, VA, as well as free roof inspection. We're dedicated to keeping more money in your pocket and keeping your roof shingles out of a landfill. Contact Roof Maxx to schedule your free estimate today to get started.
Connect with Roof Maxx of Williamsburg, VA.
Roof Maxx is your affordable roofing resource in Williamsburg, VA.