About Roof Maxx of Mechanicsburg, PA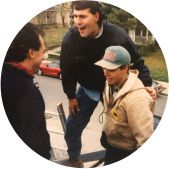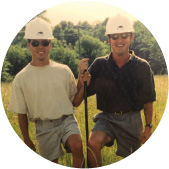 How Roof Maxx brought affordable roofing to Mechanicsburg, PA.
Capitalizing on 25 years of experience in the roofing industry. 
Roof Maxx was founded by the Feazel brothers, Mike and Todd, in 2013. Prior to creating Roof Maxx, the brothers were focused on operating their own roofing company, which quickly grew into a large and successful company. They spent over 25 years operating this company and quickly became experts in the roofing industry.
It was during this time that a change in the industry turned the brothers' attention to providing sustainable, affordable roofing in places like Mechanicsburg, PA. Today's asphalt shingles are made with less asphalt and less of the oil needed for shingles to expand and contract. Some begin to fail after just 6-8 years, forcing home and business owners to replace their roof, an expensive process. Mike and Todd wanted to find a way to extend the lifespan of shingles without replacing them.
My brother and I could see the staggering number of roofs at risk across the country and wanted to do something about it. Now, through Roof Maxx, we're looking out for asphalt roofs, the people under them, their hard-earned money and the planet.

Mike Feazel
CEO, Roof Maxx
Adding more life to shingles at a fraction of the cost.
We've partnered with Battelle Laboratories to create Roof Maxx, a roof rejuvenation formula made from natural plant-based oils that penetrate deep into shingles to replenish the lost oil needed for flexibility. Your roof will be able to effectively protect your property from Pennsylvania thunderstorms, hail, humidity, and snow. Plus, a single treatment of Roof Maxx adds five years to the life of your roof and up to fifteen with regular treatments.
We're committed to not only protecting your home or business but also your wallet. Roof Maxx services cost just a fraction of roof replacement, saving thousands of dollars. Plus, extending the lifespan of shingles postpones roof replacement, meaning you can spend your money on more pressing projects. Roof Maxx dealer Dentin Lehr is proud to provide the most affordable roofing in Mechanicsburg, PA.
Connect with a Roof Maxx dealer in Mechanicsburg, PA.
Roof Maxx is your affordable roofing resource in Mechanicsburg, PA.