About Roof Maxx of Springfield, OH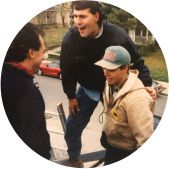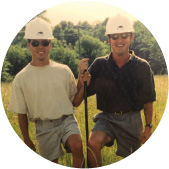 About our affordable roofing company in Springfield, OH.
The story behind the success of Roof Maxx.
Brothers Mike and Todd Feazel spent 30 years gaining all the knowledge and expertise they could in the roofing industry. During this time, they noticed that asphalt roofs weren't lasting as long as they used to. They began working on a solution to make roofs last longer and save customers thousands of dollars in roof replacement.
The Feazel brothers' work culminated in the development of Roof Maxx; an innovative roof rejuvenation treatment used today. Our plant-based formula penetrates asphalt shingles with millions of microbeads of bio-oil and restores them to like-new condition. Roof restoration from Roof Maxx can add up to 15 years to your roof, saving you thousands of dollars in the process. No wonder we're the top source for affordable roofing in Springfield, OH.
My brother and I could see the staggering number of roofs at risk across the country and wanted to do something about it. Now, through Roof Maxx, we're looking out for asphalt roofs, the people under them, their hard-earned money and the planet.

Mike Feazel
CEO, Roof Maxx
About your local Roof Maxx team.
Our Springfield team is led by local owner Chris Burris and has years of experience working on roofs in the area. We know what a roof needs in order to stand up to the harsh weather we often face in Springfield. We can treat your roof every five years for a total of three treatments and 15 years of added life, all at 20% the cost of roof replacement.
We are a customer-oriented business that focuses on providing first-class roofing services to our community. When you call Roof Maxx for affordable roofing in Springfield, OH, you get a full consultation to ensure you get the right service for your home. To get the most out of your roof and keep your home protected for years to come, contact Roof Maxx today for a free estimate.
Connect with Roof Maxx of Springfield, OH
Roof Maxx is your affordable roofing resource in Springfield, OH.
Five Year Transferable Warranty
With our five-year, transferable warranty, you'll enjoy the peace of mind that your roof and entire home are protected.