About Roof Maxx of Princeton, NJ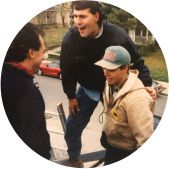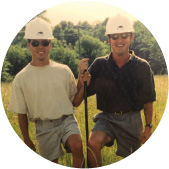 How Roof Maxx offers the most affordable roofing in Princeton, NJ.
We know roofing.
The founders of Roof Maxx, brothers Mike and Todd Feazel, have been leaders in the roofing industry since 1988. They've built successful roofing companies and learned all they can about the industry along the way. One thing they observed is the fact that asphalt roofs don't last as long as they should due to changes in oil refining. Mike and Todd decided to find an innovative way to help people get more out of their roofs while saving money.
As the shingles in your roof age, they lose the oils necessary to expand and contract with changes in the weather. With less oil, shingles are more prone to dry out and become brittle. Until Roof Maxx came along, the typical solution was an expensive and wasteful roof replacement.
My brother and I could see the staggering number of roofs at risk across the country and wanted to do something about it. Now, through Roof Maxx, we're looking out for asphalt roofs, the people under them, their hard-earned money and the planet.

Mike Feazel
CEO, Roof Maxx
Now you can find affordable roofing in Princeton, NJ.
Today, Mike and Todd's focus on roof rejuvenation is changing the industry, and helping people save thousands on roofing. Our founders worked hard to research and develop a sustainable roof rejuvenation product that would make roofs last longer and stay strong. Their work led to the development of Roof Maxx, a 100% natural bio-oil that restores the oils to the asphalt shingles in your roof. One application adds five years of life to your roof at a fraction of the cost of replacement.
Your local Roof Maxx is owned by Jeff Adamiak. We've been in business since 1994 serving Central and South Jersey. We can save you thousands of dollars with affordable roofing in Princeton, NJ. Roof Maxx can be applied up to three times, once every five years, to give your roof up 15 more years of life. Instead of throwing your shingles out and paying for an expensive roof replacement, you can save and get so much more out of your current roof.
Connect with Roof Maxx of Princeton, NJ
Roof Maxx is your affordable roofing resource in Princeton, NJ.