About Roof Maxx of W Manchester, NH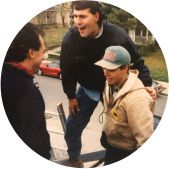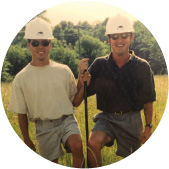 How Roof Maxx brought affordable roofing to West Manchester, NH.
We're experts in the roofing industry.
Before Roof Maxx was created, our founders, brothers Mike and Todd Feazel, were busy growing and operating one of the largest roofing companies in the United States. For 25 years, Mike and Todd worked in the roofing industry and watched it evolve. What turned their attention to sustainable roofing was when the price of asphalt skyrocketed and quality affordable roofing in towns like West Manchester, NH all but disappeared.
Because asphalt became more expensive, manufacturers included less asphalt in shingles. That meant less of the oil needed for flexibility and a significantly shorter lifespan. Home and business owners were now forced to spend thousands of dollars to replace their roof more often. Mike and Todd wanted to find a way to extend the lifespan of asphalt shingles without replacing them. It wasn't much later that Roof Maxx was created.
My brother and I could see the staggering number of roofs at risk across the country and wanted to do something about it. Now, through Roof Maxx, we're looking out for asphalt roofs, the people under them, their hard-earned money and the planet.

Mike Feazel
CEO, Roof Maxx
Now, we're extending the lifespan of shingles across the country.
With the help from the incredible team at Battelle Laboratories, we've created a roof rejuvenation treatment that's designed to reverse the aging process in shingles. Roof Maxx is made from natural, plant-based oil that replenishes the lost oil needed for expansion and contraction. When applied, shingles are restored to like-new condition and gain five years of life. Our services cost just a fraction of roof replacement, keeping more money in your pocket.
Today, we're proud to provide the most affordable roofing in West Manchester, NH. Our local team is committed to keeping your roof strong and saving you money. When you choose Roof Maxx, you'll enjoy fast, easy, and affordable roof rejuvenation and peace of mind knowing your roof will keep you protected for years to come. Set up a free estimate of your roof today.
Contact a Roof Maxx dealer in West Manchester, NH.
Roof Maxx is your affordable roofing resource in West Manchester, NH.
Five Year Transferable Warranty
With our five-year, transferable warranty, you'll enjoy the peace of mind that your roof and entire home are protected.