About Roof Maxx of Le Mars, IA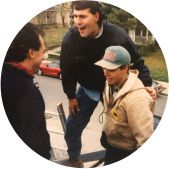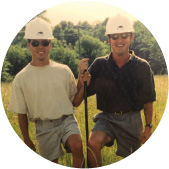 Roof Maxx provides a new way to view affordable roofing in Le Mars, IA.
Building Roof Maxx from the ground up.
Before the invention of Roof Maxx, two brothers started working hard on a co-owned roofing company. Mike and Todd Feazel loved the work they did and the people they served. As their business continued to grow throughout the years, they noticed a change in the quality of the asphalt shingles. Prices were going up while the standard was declining.
As Mike and Todd watched shingles wear down and crack faster than ever before, they started brainstorming ideas on how to solve the problem. They learned that limestone was becoming a top ingredient in asphalt shingles, causing their lifespan to decrease. Selling their roofing business, the two brothers came up with Roof Maxx, a way to make affordable roofing in Le Mars, IA, available. Their plant-based oil would extend the life of the shingles by 15 years and cut down 20% of the costs of normal roof replacement.
My brother and I could see the staggering number of roofs at risk across the country and wanted to do something about it. Now, through Roof Maxx, we're looking out for asphalt roofs, the people under them, their hard-earned money and the planet.

Mike Feazel
CEO, Roof Maxx
Roof Maxx makes affordable roofing in Le Mars, IA, easily accessible.
Steven Sweeney is the guy to call for affordable roofing in Le Mars, IA. As a veteran, Sweeney enjoys exceeding customer service expectations and helping his clients save money. After learning about the Feazel brothers' journey and how Roof Maxx could improve asphalt shingles, Sweeney was eager to offer Roof Maxx.
Instead of replacing your roof and spending around $12,500 you can add up to five years per treatment to your roof life with as little as $2,500. To continue the savings, you can apply Roof Maxx up to three times, for a total of 15 years of extended roof life. Now that's affordable roofing in Le Mars, IA.
Benefit from Roof Maxx of Le Mars, IA
Affordable roofing in Le Mars, IA is just around the corner.