About Roof Maxx of Fort Wayne, IN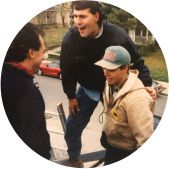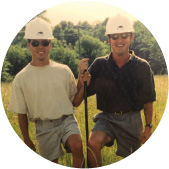 Your solution to affordable roofing in Fort Wayne, IN.
We're walking the roofer walk.
In 1988, two brothers named Mike and Todd Feazel started a roofing business. They spent the next 25 years working in the industry, learning all they could about roofing. Eventually, they turned their business into one of the largest and most successful roofing companies in the nation.
During their years in the roofing industry, Mike and Todd observed the gradual decline in the quality of asphalt shingles. This came about due to changes in the oil refinement process, which subsequently caused prices of asphalt to skyrocket. Manufacturers solved this problem by creating another one: they started using less asphalt in their shingles and adding fillers. This created a ripple effect. With less asphalt in the shingles, they began to dry out and fall off much sooner than before, and quality affordable roofing in Fort Wayne, IN became scarce.
My brother and I could see the staggering number of roofs at risk across the country and wanted to do something about it. Now, through Roof Maxx, we're looking out for asphalt roofs, the people under them, their hard-earned money and the planet.

Mike Feazel
CEO, Roof Maxx
We're revolutionizing greener, affordable roofing in Fort Wayne, IN.
The Feazel brothers sold their roofing company in 2013 in order to focus their attention on creating a roof rejuvenation treatment that would extend a roof's lifespan. They looked into new technologies and eventually found some incredible advancements from Battelle Laboratories, the world's largest private research and development company.
Roof Maxx can add five years of life to your roof with just one application of our Roof Maxx treatment, and up to 15 years after three treatments. At just 20% the cost of roof replacement per treatment, you'll save thousands of dollars. Roof Maxx is proud to be a part of a revolution in greener, affordable roofing options by helping  shingles lasting longer on roofs and out of landfills. Our Fort Wayne owner and operator, Leroy Schmucker, runs an honest and trustworthy business where the customer comes first. Contact us today to schedule a free estimate and learn how Roof Maxx can save you money.
Connect with Roof Maxx of West Hartford, CT
Roof Maxx is your affordable roofing resource in Fort Wayne, IN.
Five Year Transferable Warranty
With our five-year, transferable warranty, you'll enjoy the peace of mind that your roof and entire home are protected.