About Roof Maxx of Champaign, IL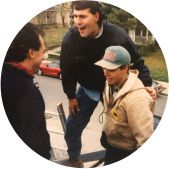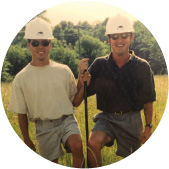 How Roof Maxx brought affordable roofing to Champaign, IL. 
Capitalizing on 30 years of experience in the roofing industry.
For more than 30 years, our founders, brothers Mike and Todd Feazel, have learned all there is to know about the roofing industry. In 1988, they started their own roofing company that quickly grew into one of the largest, most successful roofing businesses in the United States. One of the most significant changes they saw in the roofing industry during these years was a change in how asphalt shingles were made. Manufacturers were now including less asphalt in shingles due to asphalt becoming more expensive and not readily available. The result was that asphalt roofs were drying out and failing faster than ever.
It was then that Mike and Todd turned their attention to sustainable roofing in 2013. Specifically, they wanted to find a way to extend the lifespan of asphalt roofs without replacing them. Working with Battelle Laboratories, one of the largest private research companies in the world, they created Roof Maxx, and with it, affordable roofing in places like Champaign, IL.
My brother and I could see the staggering number of roofs at risk across the country and wanted to do something about it. Now, through Roof Maxx, we're looking out for asphalt roofs, the people under them, their hard-earned money and the planet.

Mike Feazel
CEO, Roof Maxx
We're bringing sustainable and affordable roofing to Champaign, IL.
Roof Maxx is a roof rejuvenation product that restores asphalt shingles to their original condition by replenishing lost oil and restoring their original flexibility. A single treatment of Roof Maxx roof restoration can add five years of life to your roof and up to 15 years with a total of three treatments. By extending the lifespan of your existing roof, you postpone the need for costly and lengthy roof replacement. And Roof Maxx can be applied at a fraction of the cost of most roof replacement projects.
We're proud to be working with Roof Maxx dealer Duane Smith. With over 40 years of experience in the customer service industry, our professional, courteous representatives are ready to serve you. So, if you're looking for affordable roofing options in Champaign, IL, contact us today to get a free appraisal for your property with no obligation.
Connect with Roof Maxx of Champaign, IL.
Roof Maxx is your affordable roofing resource in Champaign, IL.