About Roof Maxx of Mesa, AZ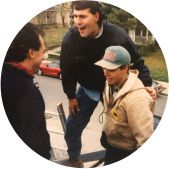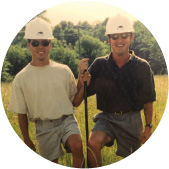 All about Roof Maxx affordable roofing in Mesa, AZ.
Roofing is what we do best.
Brothers Mike and Todd Feazel founded their first roofing business in 1988, which grew into one of the biggest, most successful companies of its kind in the country. During that time they learned just about everything there is to know about roofing. They saw the industry change in many ways, including how asphalt shingles are made.
As the oil refining industry began to affect the amount of asphalt available, costs began to shoot up and manufacturers started putting less asphalt in their shingles. Those shingles no longer had the same pliability that they needed to withstand harsh weather and temperature changes over time, and thus lasted a fraction of the time that they used to. Mike and Todd set their sights on a way to make quality affordable roofing in places like Mesa, AZ and beyond possible.
My brother and I could see the staggering number of roofs at risk across the country and wanted to do something about it. Now, through Roof Maxx, we're looking out for asphalt roofs, the people under them, their hard-earned money and the planet.

Mike Feazel
CEO, Roof Maxx
Now we provide the most affordable roofing in Mesa, AZ.
Seeing a need for change, the Feazel brothers sold their company in 2013. This time they poured all of their energy into roof rejuvenation technology and discovered Battelle Laboratories, the largest R&D company in the world. They soon had everything they needed to begin offering affordable roofing in Mesa, AZ.
Today Roof Maxx allows homeowners to extend the life of their roof by five years with just one application of Roof Maxx roof rejuvenation treatment. With up to three regular treatments, you can maximize 15 years of extra life total. Best of all, you'll save thousands of dollars as it costs just 15-20% of typical roof replacement projects. Contact local Roof Maxx dealer Abram Ellsworth to get a free estimate of your roof today.
Connect with Roof Maxx of Mesa, AZ
Roof Maxx is the best source for affordable roofing in Mesa, AZ.